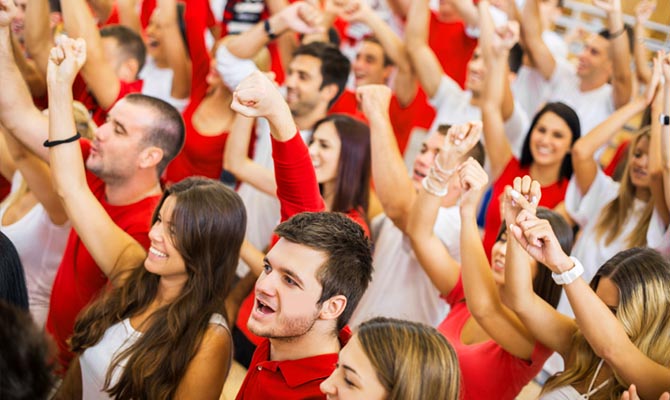 Showing Television or Films in Church
Every year, churches throughout the UK host film or television screen events. Be it a major sporting event, such as a World Cup or the Olympics, a Royal wedding, the Remembrance Sunday service, New Year's Eve, or a church film night, bringing together your community to inspire, celebrate or reflect, presents a unique opportunity for church ministry.
Hosting a big event screening needn't be complicated, or expensive. However, churches should ensure they have the correct licensing in place before the screening. The following article will help you understand your responsibilities and get covered.
News, historic events and live sport
In most cases, to show significant events such as Royal weddings, remembrance Sunday or a live sporting fixture, the venue needs:
A PPL Church Licence (which is congregational rather than venue specific)
If the event is not on terrestrial TV, the appropriate licence or subscription from the Pay-TV service used
Additionally, some major national events and sporting tournaments may require you to obtain a public viewing licence directly from the organiser, though depending on the nature of your church event, they won't always make a charge. Where possible, CCLI will publish details of any specific requirements ahead of events of this nature.*
Many churches already have the PRS for Music and PPL Church Licences from CCLI. If yours doesn't, please contact CCLI for more information. If hosting your screening in a third party venue, always check what cover the venue already has in place before obtaining additional licences.
*Sporting events
Major sporting events and tournaments are often broadcast on terrestrial television. This means that for many churches, there will be little or no cost to showing them.
However, for some events and tournaments, you may be required to obtain a Public Viewing Licence from the sport's governing body, often depending on the size or commercial nature of your screening. These licences do not always have a cost, but do bind you to certain terms and conditions. For major events such as the Olympics or football World Cup, check the competition website for public viewing event information or look out for specific guidance from CCLI.
Showing other TV programmes
In addition to the licences listed above, due to a recent change in the law, a Church Video Licence is now usually required to show television shows or series' in a public event, such as a church meeting. This means that to legally show terrestrial television, either live or on-demand (with the exception of news, certain historic occasions and live sport), the following licences are required:
If the event is not on terrestrial TV, the appropriate licence or subscription from the Pay-TV service used
Showing films
The Church Video Licence provides broad coverage to show films from more than 3,700 studios/producers.
On it's own, the Church Video Licence will cover a church to show film scenes in a worship service
To show films in activities outside of worship services, the venue must also be covered by a PRS for music licence
Churches that meet in Community Centres, Schools or Cinemas
Many community centres have their own TV, PRS for Music and PPL licences which may cover a screening hosted on the premises. Always check with the venue and contact CCLI if you need to confirm whether additional licensing is required.
Some broadcast events, such as sporting tournaments, may treat public screenings held in venues such as cinemas or theatres differently. If in doubt, contact the event organiser to confirm.
PPL Church Event Licence
A 14-day event version of the PPL Church Licence is available from CCLI if you only require this licence for a one-off event or mission week.
Streaming live events over an internet connection
Always check the terms and conditions of any streaming service (such as On Demand services like BBC iPlayer) that you wish to use before streaming an event live in a public setting. Often such services do not permit public screenings without additional permission being obtained.
Further information
If in doubt, please contact CCLI for clarification before arranging your screening.